Between temporary school closures, social distancing practices, and remote working arrangements, the coronavirus has left many of us stuck at home.
(Learn more about our response to COVID-19 and the relief options available to our members).
While Vermont Federal remains open and ready to serve you through our branch drive-thru services and over the phone, we also offer many ways to manage your money online.
Here are the online tools and services that you can use to manage your finances anytime from the comfort of your home.

Online & Mobile Banking
Whether you are using a computer, smartphone, or tablet, our online & mobile banking services give you full control over your financial accounts. You can quickly and easily:
Check balances
Make transfers and loan payments
Open new accounts
Pay bills and send money to others directly
And much more
Register for Online Banking here or download the Vermont Federal Mobile Banking app for your iPhone®, iPad®, Android® device to get started.
Mobile Check Deposit
Did you know that you can deposit paper checks using our Mobile Banking app? Simply login to the app, select Check Deposit, take a photo of the check, and submit.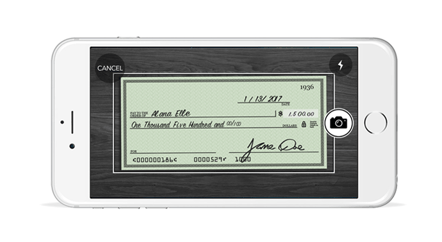 Online Bill Pay
Pay bills online at your convenience and save a trip to the post office. With our free bill pay service, you can schedule and send payments to any business anytime. You can also manage your payees and track your payments.
Click here to view a demo of Online Bill Pay
Pay Family & Friends
Send money to virtually anyone using their email address, mobile number or account information using Popmoney. This service makes splitting the bill with family or friends fast and easy. The funds are electronically deposited to the recipients account, and you get to choose the speed of the transfer.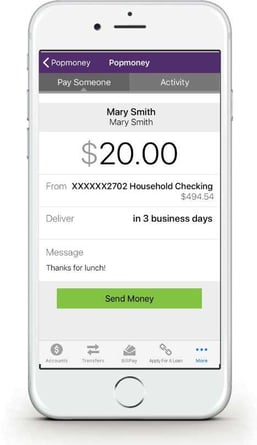 Click here to view a demo of Popmoney
Transfer Funds Between Accounts
Sometimes you need to transfer money to your account at another financial institution. Now you can transfer funds to and from any account without visiting a branch or writing a check. Connect your accounts and setup transfer schedules to manage all of your finances in one place.
Click here to view a transfer money demo
Manage Your Spending
Creating and sticking to a budget can be tough, but we make it easier with our free financial management tool within Online Banking. Create budgets, establish savings goals, and review spending trends in order to get a full picture of your finances. You can even set up notifications and reminders to help you stay on track.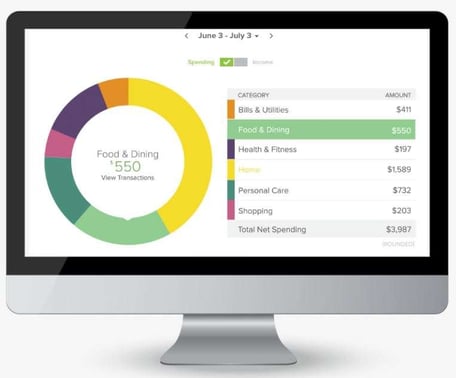 Control Your Debit Card
Take full control over your debit card with MobiMoney. Using our mobile app you can instantly turn your debit card on and off with a single button. You can also setup real-time alerts and control where your card is able to be used.
Download the free MobiMoney app on you iPhone® or Android® device.
Go Cashless
One way to protect your health and to fight the spread of COVID-19 is to use your debit card and credit card rather than cash and coin. Plastic cards are easy to disinfect and they rarely exchange hands with others.
You can also add your debit card and credit card to a digital wallet on your smartphone, such as Apple Pay, Google Pay, or Samsung Pay. These services allow you to make in-store and online purchases with just a few taps on your mobile device.
Click the following links to enroll your cards in Apple Pay, Google Pay or Samsung Pay.
Apply For a Loan
You can apply for any loan product online through our website www.vermontfederal.org. Simply find the product you are looking for and select the Apply button to begin an online loan application. You can also apply over the phone at 888-252-0202.
Open a Deposit Account
You can open any deposit account online in minutes through our website www.vermontfederal.org. Simply find the product you are looking for and select the Open an Account Online button.
Current Vermont Federal members can save even more time by opening new accounts through Online Banking.
Become a Member
Ready to see where better banking takes you? Use our online process to become a member in less than five minutes.
Contact Us
Have questions or looking for assistance? Please contact us. Our member services team is ready to assist you.