Burlington, VT – On Saturday, November 23rd, Vermont Federal Credit Union was the presenting sponsor of the Feed Your Neighbor Food Drive to benefit Feeding Chittenden and Joint Council for Economic Opportunity (JCEO).
Vermont Federal Credit Union once again joined radio stations 99.9 The Buzz and 106.7 WIZN at Costco in Colchester to support the Feed Your Neighbor Food Drive. Credit Union staff spent the day collecting non-perishable food items as well as cash donations to benefit the Chittenden Emergency Food Shelf. Staff volunteers provided suggested items to donate and those who contributed received reusable grocery and wine totes provided by the Credit Union as a thank you.
This year's food drive was another success with 5,580 pounds of food and $491 collected. In addition to the annual event, the Credit Union held a food drive at its six branch locations for members to contribute throughout the month of November. Food collected at the branches will be distributed to local food shelves including Northwest Family Foods, Helping Overcome Poverty's Effects (HOPE), Milton Family Community Center and Feeding Chittenden.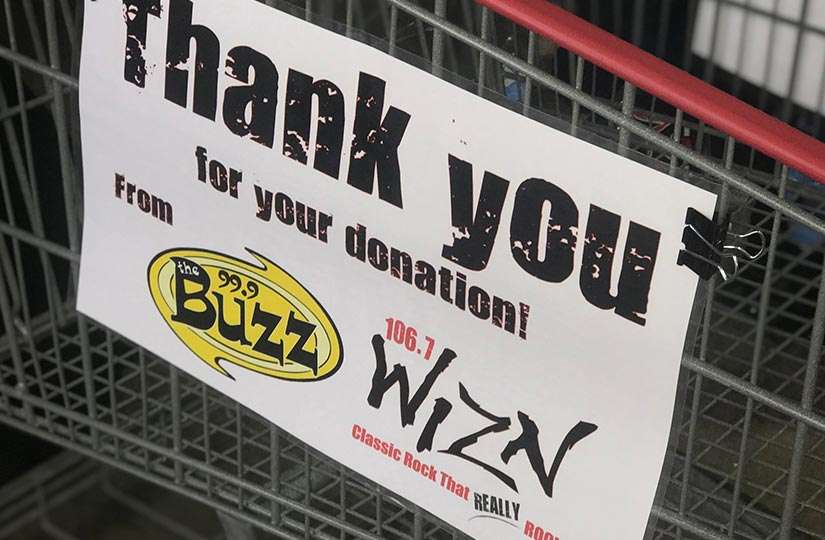 Vermont Federal is a $550 million-plus financial institution, with six locations currently serving over 40,000 members. Members are part of a cooperative, meaning they share ownership in the Credit Union and elect a volunteer board of directors. Vermont Federal Credit Union provides membership to anyone who lives, works, worships or attends school in Addison, Chittenden, Caledonia, Franklin, Grand Isle, Lamoille, Orange, Orleans, or Washington Counties in Vermont. Vermont Federal Credit Union is committed to providing support to the communities it serves and to make a decided difference in the lives of its members and other Vermonters. For more information about Vermont Federal Credit Union, call (888) 252-0202, visit www.vermontfederal.org, or find us on Facebook.
Feeding Chittenden works to alleviate hunger by feeding people and cultivating opportunities. As the largest direct service emergency food provider in Vermont, the Food Shelf serves roughly 11,000 people each year. Visit www.feedingchittenden.org for more information